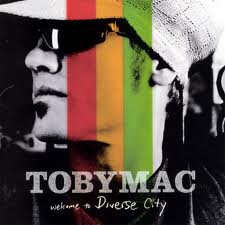 Welcome to Diverse City is the second full length studio album released by Christian singer TobyMac. The songs on this album deal with racial tolerance in society and a desire to know God better. Several other Christian artists appear on this CD, including Bootsy Collins ("Diverse City"), Coffee from GRITS ("Hey Now"), DJ Maj (Several songs), Papa San ("Catchafire (Whoopsi-Daisy)"), Paul Wright ("Street Interlude"), Superchick ("Stories (Down to the Bottom)"), and T-Bone ("The Slam"). TobyMac also reunites DC Talk on vocals in a remix of his song "Atmosphere", the last track of the album.
==Tracklist==
1. Hey Now (ft. Coffee from GRITS)
2. Catchafire[Whoopsi-Daisy](ft. Papa San & MOC)
Ad blocker interference detected!
Wikia is a free-to-use site that makes money from advertising. We have a modified experience for viewers using ad blockers

Wikia is not accessible if you've made further modifications. Remove the custom ad blocker rule(s) and the page will load as expected.