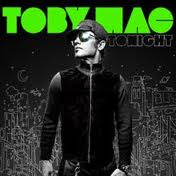 Tonight is the fourth solo album from the Christian pop–hip-hop artist TobyMac. It is the follow-up album to his 2007 release Portable Sounds, and was released on February 9, 2010.[2] The Deluxe Version of the album will contain a DVD containing interviews with Toby about the songs on the record, the making of this record and an inside look at the Diverse City Band. The album debuted at No. 6 on the Billboard 200, selling 79,000 units in its first week. As of early November 2010, the album has sold over 315,000 copies.
Recording Process
Edit
When asked about the album by stereotruth.net Toby had the following to say about the emotions that went into producing it; "The recording process means a lot to me, and I don't approach what I do haphazardly. I have a lot of passion when it comes to my records. I don't know if it's good or bad, but there's this range of emotions that come with making a record. Music is something that can actually open people's minds to who God is. Music will never change the world, but God can choose to use music, and that's what I count on. I want my songs to be said in a way that anyone can relate to them. I want them to move people's lives forward; move people toward God, and if I'm accomplishing that, whether or not anyone loves this record, as long as I feel like that is what I'm doing, then I feel like my job is done."
Release and promotion
Edit
"City On Our Knees" was released as the album's lead single in August 2009; it peaked at #1 on Billboard magazine's Hot Christian Songs chart in October 2009.
"Showstopper" has been used as part of the NFL Thursday Night Football Promotional material and the 2009 World Series. It is also the official theme song for the WWE Fatal 4-Way Pay-Per View event. The song was also promoted for ESPYS' Best U.S Male Olympian.
tobyMac has announced the "Awake Tonight Tour" with Skillet and House of Heroes in support of the album.[8]
"Showstopper" and "Funky Jesus Music" were both added to the Winter Wonder Slam 09 tour as new songs.
"Get Back Up" followed Jan. 26th as the second single. TobyMac donated 100% of his artist royalties from the first week sales of the single to relief efforts for Haiti after the 2010 Haiti Earthquake that devastated the country.[9]
"Tonight" was used as the theme music for MLB Network's spring training team preview show "30 Clubs in 30 Days"
"Tonight" was used in a commercial for the show "America's Got Talent"
There is also a music video for the song, "Tonight".