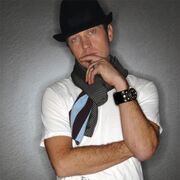 Kevin Michael McKeehan is a Christian rapper music artist who goes under the stage name of TobyMac. Before he was a solo artist, he was a part of a Christian band called DC Talk. HIs first solo album was 
Momentum
, which was released on November 6th, 2001. Many other albums followed.
Momentum (2001)
Welcome to Diverse City (2004)
Portable Sounds (2007)
Tonight (2010)
Eye on It (2012)
This Is Not a Test (2015)
Re:Mix Momentum (2003)
Renovating Diverse City (2005)
Dubbed and Freg'd: A Remix Project (2012)
Eye'm All Mixed Up (2014)
Toby and his wife, Amanda, were married in 1994.
They had five children: Truett (TruDog), born in 1998, twins Moses and Marlee, adopted in 2002, Leo, born in 2004, and Judah, born in 2006.